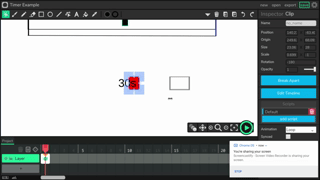 You see, when I try to move or expand the
rectangle it's acting funky and doing both
actions . . . it's the only object that does that,
I'd be guessing it's because of its 335 frames
Also, is it possible to code an object to be
send to front on the event of a mouseClick?
I need this feature in a puzzle game I am
making, the puzzle pieces are all over the
place and when holding and dragging them,
another piece would always interrupt the
dragging!